| | |
| --- | --- |
| Posted on December 3, 2015 at 5:30 AM | |
We are really pleased to be selling copies of Peter Challis's new book The Return of the Nephilim, which is Book 1 of his forthcoming Alien Gospels series.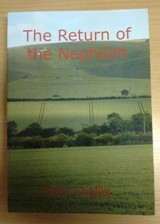 The book is Christian science fiction, with a romantic twist, and Peter describes it like this:
The White Horse on the hill above the village of Uffington marks the place where the warring Nepha and Omeegans believe that humanity spread out to their and other planets. They think a clan called the Eternals once controlled Earth's gateway. Paul Royal is the only living person with Eternal DNA.

The Nepha invade Earth. The Omeegans implant two female agents to fight back. Both sides see Paul as the key to the future of humanity. If he had a girlfriend, she could heavily influence him. The Omeegans choose Angela Young, an ambitious graduate in politics. The Nepha capture and brainwash a young SAS officer, Sarah Jane Stay.

The Return of the Nephilim is about how these four women seek to inspire Paul whose ability in the neural net makes him a major asset in the war. Are the Nepha the biblical Nephilim come back to run the Earth? Who are the Eternals? What is the key to the gateways? Is there a God who is in control?
Copies of the book are £7.99 each, and the author is very generously donating all the proceeds from the sale of the book to Cornerstone.
Categories: None
/