| | |
| --- | --- |
| Posted on 21 September, 2017 at 5:55 | |
The first chapter of Genesis too often causes controversy among Christians. Some of us read it as allegory, some of us hold to a strict 6-day creation; all of us want to take the text seriously as part of God's revelation of Himself.
In The Lost World of Genesis One, John H. Walton presents a way of reading this ancient text based on its context in the ancient world, and its context in Hebrew culture. Walton is professor of Old Testament at Wheaton College, Illinois, and brings his academic background in both ancient history and Old Testament theology to bear.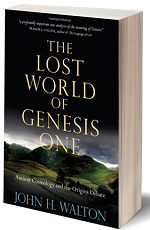 While affirming the doctrine that God is the creator of all that is, Walton argues that the first chapter of Genesis is mainly about God assigning form or function, rather than primarily about material creation. Not all Christians will subscribe to this view, I am sure, but his arguments are laid out very clearly, and I thoroughly recommend reading his book prayerfully. Whether or not you accept his final conclusions, there is much in this book that should help to bring this "lost world" to life; and for me, there is much that has renewed my desire to praise the God who has made heaven and earth.
The Lost World of Genesis One, RRP £11.99, is available to order through Cornerstone: contact us for more details.
John Wilson
Categories: None