| | |
| --- | --- |
| Posted on 10 October, 2017 at 11:40 | |
Claire Wong, The Runaway (Lion Fiction, 2017, ISBN 1782642420)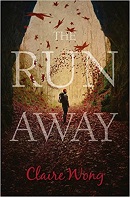 We wanted to give our 13-year old granddaughter something for her baptism. Her mum suggested a book and so we browsed in Cornerstone, and we found this debut novel published by Lion. And we bought it. I couldn't find what age, if any, it's suitable for. It seemed a good idea to check it wasn't a dud, and so just in time I read it. I'd say it was of general interest, but especially for young adults.
I must say I was pleased. Though it doesn't mention God, it's a Christian story in disguise. It concerns a 17-year old named Rhiannon Morgan, whose single mother has been killed in a car crash and who has been looked after by her dominating aunt (and guardian), Diana. They live in Llandymna, a small village near Dyrys Wood in Wales. Their relationship worsens to the point that Rhiannon packs her bag and runs away into the forest. She is not the first person to have fled the village. Years ago, in an incident never spoken of, but recalled by Maebh, the wise seer and storyteller of the village, a man called Emrys had been driven from the village in some sort of mob incident.
Despite exhaustive searches, Rhiannon escapes discovery and learns to survive in the woods. Llandymna returns to its unhappy pattern of normality, until the arrival of a brother and sister, Adam and Grace, who study trees, and the running away of another young man from the village.
That's probably enough of a plot-spoiler! The book not only has a well-worked plot, but also a range of interesting characters with their own stories which unfold and inter-connect. Maebh is a central figure, who represents the vital importance of story – which, when you come to think of it, is why the Bible has so much narrative in it: because we remember and relate to stories, and trying to forget them is the road to forgetting their lessons. Like the Bible, this is a story of suffering, forgiveness and restoration. I suspect my granddaughter will get the point.
Wondering what to give your teenage kids or grandchildren for Christmas? If they like reading, give them this – and then ask to borrow it to read yourself. Highly recommended.
Price: £7.99
Michael Wenham
Categories: None