| | |
| --- | --- |
| Posted on April 5, 2018 at 4:05 AM | |
I have recently been reading Paradoxology by Krish Kandiah.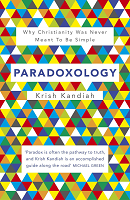 Like, I suspect, most Christians, I have often been puzzled when reading the Bible. How can a God of love ask Abraham to sacrifice his son? Or why is God sometimes so present people hear His voice, but sometimes apparently distant or even absent? In Paradoxology, Kandiah argues that by exploring these and other paradoxes we get closer to knowing the true God: instead of trying to ignore or explain away these difficulties, we can use them to deepen our faith. He takes 13 different paradoxes (8 from the Old Testament and 5 from the New), and explores them individually, applying each one to Christian faith and experience.
The subject material might sound quite heavy, but Krish Kandiah writes with a very easy-to-read style, blending theological depth with pastoral experience. I have found this a book that is worth reading slowly and prayerfully, which has challenged me again to take seriously the God revealed in the Bible.
John Wilson, Trustee
Categories: None
/