| | |
| --- | --- |
| Posted on June 7, 2018 at 6:05 AM | |
I have recently been very moved by reading Seeking Allah, Finding Jesus by Nabeel Qureshi.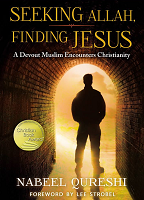 This is a very personal account of the author's own upbringing in a devout Muslim family, the friendships that he formed with Christians while a student, and his search for truth among the claims of Islam and the claims of the New Testament. I found it very easy to read, but also with real depth. I think the book can be read as an engrossing biography, but it is also a spur to more study.
Qureshi writes with real affection for the culture and faith that he grew up with, and uses his own experiences to illuminate how different the worldviews of devout Muslims and Western Christians can be. He gives plenty of examples of the Islamic stories and practices that shaped his outlook from his earliest childhood. For those of us who are Christian, the early chapters of the book will give valuable insights into Islam that go beyond the usual stereotypes. Especially useful are the panels explaining the various Arabic and Islamic terms that are introduced. Also, each chapter ends with notes for further reading, and this most recent edition includes appendices written by others to give extra detail on some of the topics raised such as the role of the Qu'ran and the Hadith, or Muslim views on Jesus.
I can thoroughly recommed this book to anyone wanting more understanding of Islam and Christianity.
John Wilson, Trustee
Categories: None
/