| | |
| --- | --- |
| Posted on 15 October, 2015 at 6:00 | |
We now have in stock copies of local author Hazel Townesend's novel I Will Not Kill, set during the Great War of 1914 to 1918. This is obviously topical, especially given that 2nd March 2016 will be the 100th anniversary of conscription to supply men to fight.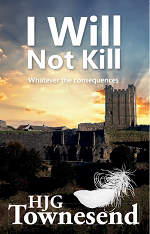 Of the book, Hazel writes:
World War I was inflicting a terrible toll; by the end of 1915 it was clear that not enough men were volunteering to fight. The Military Service Act became law on March 2nd 1916. After that date all single men between the ages of 18 and 40 were deemed to be in the army, and were required to register. Later that year married men were also included.
Some men registered but refused to fight, and were sent into the Non-Combatant Corps (NCC) as stretcher bearers, caterers etc. Other men refused even to register, and were Absolutist Conscientious Objectors. Sixteen of these men were, for a short while, imprisoned in the Norman Castle of Richmond in North Yorkshire; they became known as the Richmond Sixteen.
This fictionalised story follows the fortunes of three people: Joseph, one of the Richmond Sixteen; Daniel, a member of the NCC, trying to support fighting men by being a stretcher-bearer; and Annie, a volunteer nurse, who went not only to work but also to search for her brother.
Categories: None