| | |
| --- | --- |
| Posted on 3 November, 2017 at 9:15 | |
John Durant, Vicar of the Vale Benefice, writes…
I have been reading the book I Married a Soldier by Brenda Hale, which was published this summer by LION.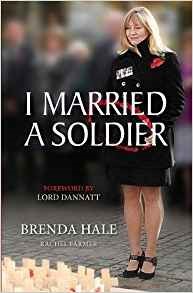 It tells us of Brenda's experiences, both as an army wife and then as an army widow after her husband Captain Mark Hale died in Afghanistan. It ends with her re-election last year to Stormont in Northern Ireland, where she lives. They are selected experiences but include how both of them became Christians, how the family dealt with the disruption of separation and how subsequently they were coping with the devastation of bereavement.
The book brought back lots of memories for me, for I first met Mark when he was Company Sergeant Major of "A" company of the 1st Battalion Devon and Dorset Regiment when I joined the Army as a chaplain in 2000. I remember reading the Bible and praying with Mark in Crossmaglen, refereeing him in rugby matches; visiting the family in hospital after their second daughter was born and conducting her service of Blessing and Thanksgiving and Dedication at the little corrugated chapel in Cavalry Barracks, Hounslow where they attended.
Mark had a great care and sense of responsibility for his men, and it was while he was trying to save one of them that he was killed.
What this book makes clear, far better than I could is that it is not only the service personnel who make sacrifices, but also their families as well. It also conveys the anger, frustration and despair at the horror and waste of life that war causes. Brenda took those strong feelings and channelled them to make a positive difference.
Our national act of remembrance this month gives us an opportunity to show gratitude for the sacrifices made by sailors, soldiers and airmen, as well as their families; but it should also help us positively focus on striving to maintain freedom, security and peace.
As a Christian minister, I find myself returning to the phrase Jesus said –" …no one has greater love than this that they lay down their life for their friends"; and finding hope in the belief that his sacrifice has begun the process to bring about the end of all war and conflict.
We will remember them.
 
John
"I Married a Soldier" is in stock now at Cornerstone, priced £9.99
 
Categories: None